Since the turn of the 21st century, Dubai has rocketed up its popularity rankings. The city has implemented an ambitious tourism strategy to attract 25 million visitors a year by 2025, and it's already almost there.
Thanks to its iconic skyscrapers, unrivaled adventure activities, fantastic tourist attractions, family friendly theme parks, world-class entertainment and exclusive experiences (dinner in the sky, anyone?), Dubai has established itself as a global leader in innovation, technology, and tourism. But the City of Gold is also rich in vibrant history and culture, which exquisitely complements its modern flare.
Need help planning your trip to this desert oasis? Looking for fun and unforgettable things to do in Dubai? Look no further.
1 – Swim with sharks at Dubai Aquarium & Underwater Zoo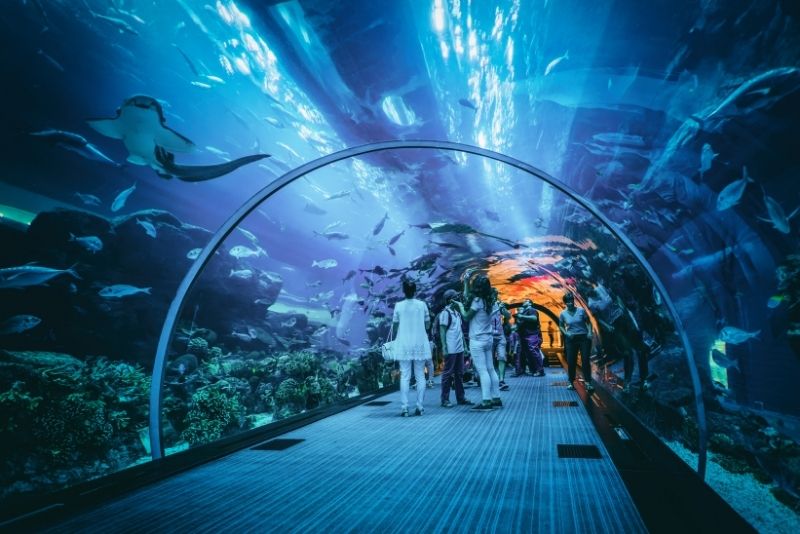 Situated on the main floor of the sprawling Dubai Mall, Dubai Aquarium houses a 10 million liter water tank full of over 33,000 diverse aquatic animals — including one of the world's most giant crocodiles.
See marine creatures of all sizes from the bottom surface of the 11-meter high and 48-meter long tunnel. Get behind the scenes of the Underwater Observatory with Researcher Experience, or that plus a glass-bottom boat tour with Explorer Experience.
If you're brave enough, you can feed and even swim with rays and sharks! Say hello in person to one of the deadliest sea creatures — while you're safe inside a dive cage.
For the best bang for your buck, grab a ticket that combines the aquarium with a trip to Burj Khalifa's viewing platform.
2 – Hold on for dear life with a 4×4 dune bashing adventure
If you're searching for something exhilarating, something adventurous that you can't find at home, then look no further.
Strap yourself into a 4×4 and let the driver roar up, down and around the dunes at top speed. Combine it with a slow-paced camel ride, dune bashing and sandboarding.
End the day in a more relaxing fashion by indulging in a sumptuous barbecue buffet and refreshing drinks. Experience and partake in traditional Bedouin activities such as belly dancing, fire dancing and falconry.
3 – Have an epic time at IMG Worlds of Adventure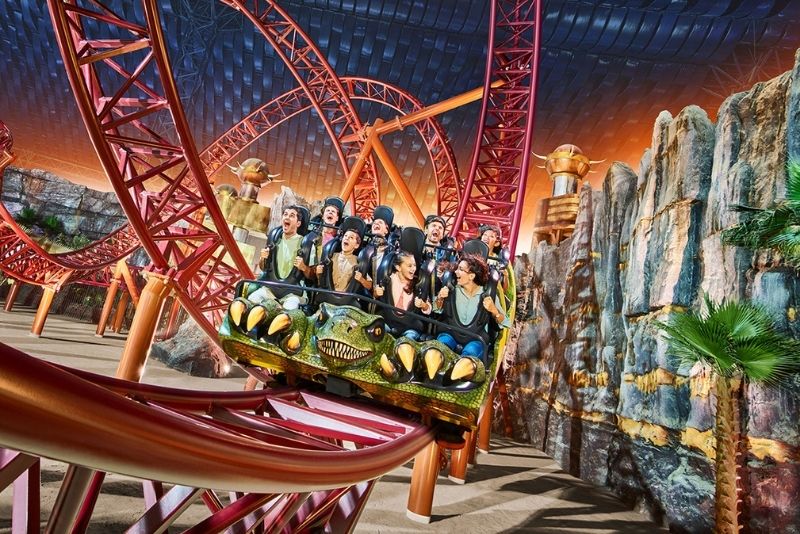 The first and one of the largest indoor theme parks in the world, IMG Worlds of Adventures boasts hair-raising thrill rides. It's no wonder over 20,000 people visit here every day.
This mega park has four so-called Epic Zones with rides centered around popular Cartoon Network characters, MARVEL superheroes and dinosaur adventures.
Test your courage at the Haunted Hotel and find the exit from a maze of creepy spaces. Engage in a luxurious 3D experience at the Novo Cinemas zone with reclining seats and VIP service.
Take the youngsters to the latest attraction, IMG Kids Zone, an inflatable playground with an area of over 17,000 square feet! Parents can watch their children unleash their energy bouncing, climbing walls and playing in the slides.